My blog post about my newfound love for the kimono was due to happen a few weeks ago.  But shortly after returning from a week  in Sussex, my website was afflicted with the white screen of death.  The support team at my web hosting company said they couldn't fix it.  Cue a McCauley Culkin " Home Alone" face on a 40 plus woman and you have my reaction indelibly imprinted in your imagination.   I have no technical expertise and the whole debacle made me want to cry.  I ate waffles instead, it made me feel better, but now I want to cry when I see the expansion in my waist.  However, alls well that ends well and finally I can share my new kimono obsession with you.
I've never owned a kimono before, but when I spotted a pretty printed one at Zara, I was hooked.   Needless to say Zara's kimono made it's way into my shopping basket, the item arrived and it's total love.    I took my new jacket camping with me and it made a pair of tracksuit bottoms and a vest look totally glamorous (whilst playing a game of badminton, as you do).  It looks gorgeous with jeans and  was perfect on the beach, with shorts,  when my shoulders were too burnt to expose to the sun.  Total win, it's effortless cover-up perfection for cooler summer days and evenings.
Unfortunately this kimono is sold out (blame my website technical issues), but the good news is that Zara has some other rather fabulous specimen for you to choose from.  How many can we have?
Zara
Zara, oh Zara, you spoil us with your excellent kimono game.   Here are a few that you could consider adding to your summer wardrobe for a lovely tropical refresh with one easy item.
What glorious colours in this Kimono-style jacket, I'm practically swooning at the thought of adding this lovely jacket to my wardrobe.  It retails at £49.99 if you have room in your wardrobe (or your budget).
The Botanical print kimono is one of my favourites, it is a beautiful summer piece.  It retails at £59.99. If you are lucky enough to be purchasing it, please spare a few pennies and buy the model a cheeseburger, it looks like she needs it.
On the more pyjama-esque end of the kimono scale, you'll find the long floral print kimono in an exotic green print for £69.99.  This kimono is perhaps a little trickier to style with it's dressing gown feel.  But if you get it right, it will make the simplest of outfits look pretty special.  This kimono is perhaps easiest styled over a pair of jeans and a basic vest or a T-shirt.  Keep it simple, this kimono speaks volumes.
A few other High Street Finds
If your budget is feeling a little pinched this month, have a look at New Look's Noisy May Green Tropical Print Kimono for £25.  There is a lot of love in the  fashion world for anything with a leaf print. This one ticks the kimono box and adds the leaf obsession to your wardrobe all one fell swoop.
For the perfect holiday cover-up and versatile bright piece, look no further than H&M's Red Floral Patterned Kimono for £19.99.
Treat yourself
On the slightly more expensive spectrum, I came across a few gorgeous kimonos from Free People.   If you can afford to treat yourself, or have a birthday coming up, then have a look at their lovely offerings.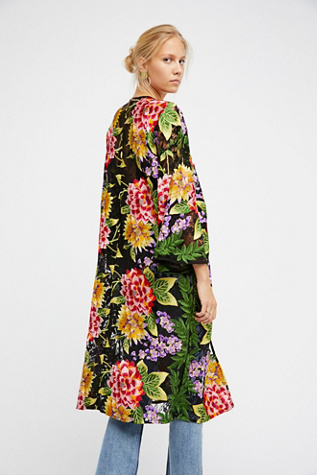 Jen's Pirate Booty embroidered lace kimono is from a Californian based designer and retails for £168.  If you love the embroidery trend, then this may well be the one for you.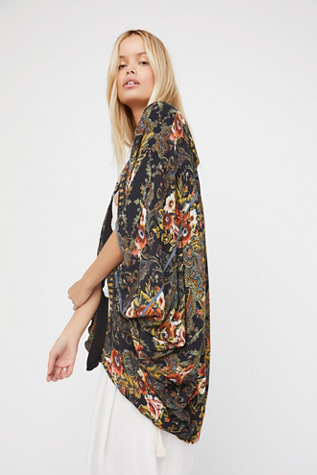 For a little more boho feel, try Free People's Jaipur Kimono for £148.  The colours are bright enough for summer, but at the same time have a bit of an autumnal feel.  This kimono will layer beautifully over a long sleeve T-shirt or lightweight jumper as summer starts to wane.
For the Creatives
If you have some sewing skills, an unlined kimono is fairly simple to put together.  As it's a summer cover-up, the lining is definitely not needed. Some of the options listed above are certainly not lined.
If your skills do not include pattern making, fear not, you can buy a New Look easy kimono pattern to get your project started.  Buy the pattern first, as they normally list how much fabric you will need.  I think!  Please feel free to comment if I'm wrong, it's been about 25 years since I've bought a pattern .
I have also found some lovely (swoon worthy) fabrics that you can order online. A few of my favourites are listed below if you are up to the task of making your own.
Fabric Godmother
Flamingo Floral Lightweight Satin is a perfect option in the throes of the flamingo obsession that appears to be riding the crest of the wave.  Totally gorgeous, it's the fabric of summer dreams.
The Crane Satin is a little bit more pricey per metre, but it reminds me of some gorgeous Zara trousers that can be seen all over Instagram.
Minerva Crafts
If you would like your Kimono to have a slightly more Asian feel, then perhaps consider the Chinese Satin Blossom Brocade from Minerva Crafts.
Keep an eye on my Instagram account if you would like to see how I wear mine, but do join me in the Kimono loving and get one for yourself soon.   xxx